The architecture of the property with clean lines and refined materials, reflects the aesthetics of harmony between nature and human design. Large windows allow light to permeate the space, creating a light and airy atmosphere.
FLOOR PLAN
In the residence of 107.56 square meters there are three bedrooms, one of which has its own private bathroom, another bathroom, storage room, kitchen, fireplace, living room and dining room. Its terrace has an unobstructed view of the sea and the mountain.
Location

Village

Town plan limits

Inside

View

View  Olive groves, Sea, Mountains
Living Room

Yes

Fully Equipped Kitchen

Yes

Dining Room

Yes

Bedrooms

3

Bathrooms

2

Guests WC

-

Storeroom

Yes
Outdoor Living Room

Yes

Patio

Yes

Conversation Pit

Νο

Swimming Pool

27 m²

Garden

Yes With auto watering

Pergola

Yes

Outdoor Barbecue

Νο

Solar Shower

Yes

Parking

Yes
| | | | |
| --- | --- | --- | --- |
| Energy Fireplace | Yes | Air Conditioner (VRV) | Yes |
| Satellite | Yes | Solar Thermal Heater | Yes |
| Alarm | Yes | Cameras | Yes |
| Exterior Lighting (LED) | Yes | Energy Frames | Yes |
| Electric Shutters | Yes | Mosquito Nets | Yes |
| Wardrobes | Yes | WiFi | Yes |
Nearest Town

Parga/10 minutes

Airport

Aktio Preveza(PVK)/55 minutes

International Port

Igoumenitsa/45 minutes

Organized Ship marina

Preveza/55 minutes

Hospital/Health Center

Kanalaki/30 minutes, Preveza/55 minutes, Ioannina/65 minutes

Supermarket nearby

Yes

Restaurants nearby

Yes

For Sale

Yes

Location

Trikorfo

Property Type

Villa

Plot Area

1886.98 m²

Square Meters of Building

107.56 m²

Price

440,000

Taxes

info

• Property Transfer Tax:
1. For newly built houses VAT 24 % of the value written on the purchase contract.
(UNTIL THE END OF 2022 THERE IS A 24 % VAT EXEMPTION AND THE TRANSFER TAX IS SET AT 3 %)
2. For any other property, the property transfer tax is estimated to be 3 % of the value written on the purchase contract.
• Notaty's Fee: Set at 1,1 % of the stated value of the contract.
1 Land Registry: 0,475 % of the value written on the purchase contract plus VAT.
• Realtor's Fee:
1. Defined at the amount 2000€ plus VAT for properties priced less than 100.000€.
2. Defined at the percentage 2 % plus VAT for properties priced more than 100.000€.
BUILDING ENERGY EFFICIENCY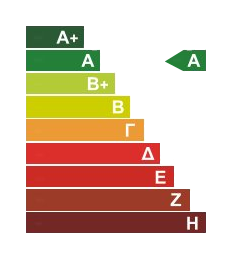 Trikorfos of Parga is a picturesque enclosed bay located on the west coast of Greece, near the village of Parga. The bay has three entrances from the sea and is about 4 kilometers long and 2 kilometers wide. The geomorphology of Trikorfos creates a unique natural beauty, with beautiful coasts and green mountains around it. The beaches of Trikorfos of Parga are known for their amazing beauty. The most popular beaches are Sarakiniko, Valtos, Agia Kyriaki, Lichnos and Alonaki. The clear blue waters and impressive rocks make the place ideal for swimming, sunbathing, canoe-kayaking and other water sports. The area of ​​Trikorfos Parga is also of great historical importance. During the Byzantine and Ottoman wars, Trikorfos was used as a natural port and fortress.
Today, you can visit the ruins of the fort and discover the history of the area. Visitors can also enjoy a boat ride around Trikorfos and enjoy the unique. In addition, there are many taverns and restaurants in the area that offer traditional Greek cuisine and seafood dishes. In general, Trikorfos of Parga is a beautiful destination with natural beauty, history and many activities for visitors.